Allen Hall Experience Hub
ABD Engineering & Design worked closely with PIVOT Architecture and University of Oregon School of Journalism and Communications staff on the Allen Hall Experience Hub renovation.
Complex Connected Spaces
The School of Journalism and Communications wanted the renovated Allen Hall Experience Hub to be a "go-to" space for research, collaboration, multimedia storytelling, and social media campaigns, with possibilities limited only by student imagination. Students have 24/7 access to experiment with emerging technology and media, such as virtual reality, 360 video, podcasting, and social media analytics.
The facility is shared by different groups including: immersive media development at the School of Journalism, games development, psychology and counseling, and traditional mass-media faculty. The school demonstrated the need to replace the existing traditional broadcast studios with spaces for new and emerging media. ABD provided complete acoustical engineering, along with audiovisual design and AV infrastructure design throughout.
Tech spaces include a new broadcast studio and control room. The new studio also functions as screening room with surround sound and is also used as a classroom. There is also a podcast studio with its own editing bay; this also functions as a mini studio and control room.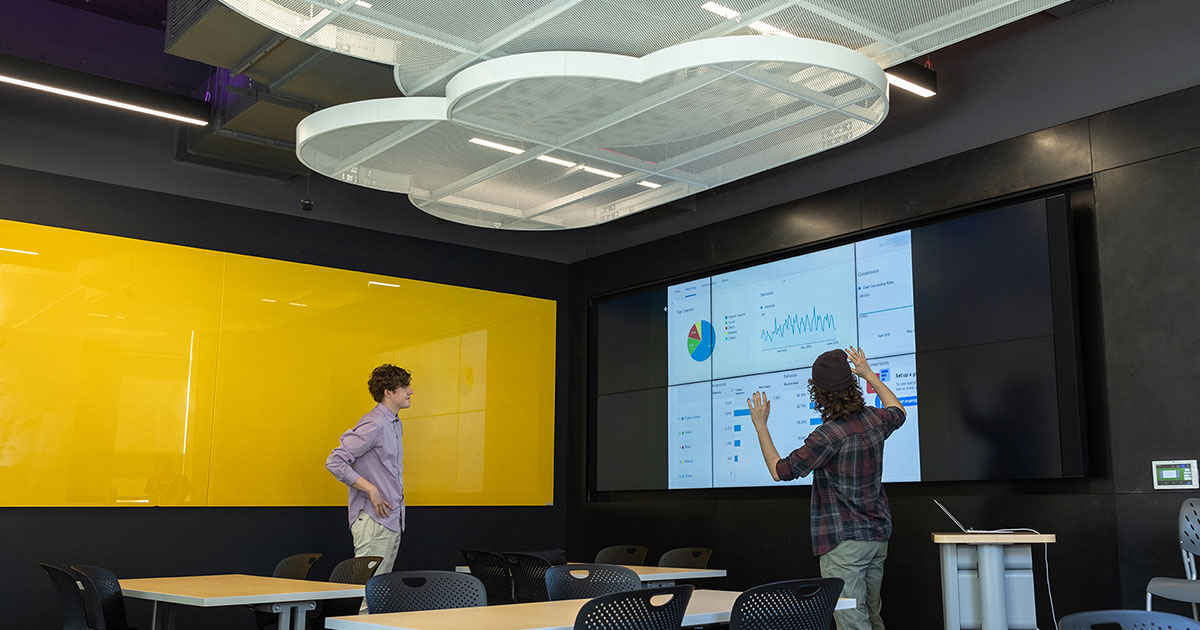 Also included is a Social Media Lab with real-time analytics monitoring, which can also act as a teaching space and web conferencing space, hosting unified communications/web-conferencing and streaming applications on a large video-wall alongside the real time analytics and social media influencing content. Finally, in the Immersive Media Lab, Virtual Reality and Augmented Reality share space with collaborative games development. Common-area upgrades included the replacement of existing lobby signage, as well as a new feature-wall interactive display system to showcase significant alumni and donors.
Each space has a unique application of technology and resulting design. For instance, the Social Media Lab was designed to house a substantial amount of fixed equipment that supports its functions, while the Immersive Media Lab was designed to have substantial, flexible infrastructure to support a consistent turnover of owner furnished technologies that have lifespans of only 12-18 months.
Solving Acoustical Challenges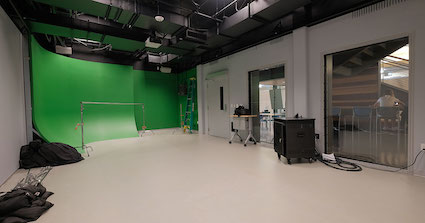 Locating the broadcast studio adjacent to the building's main lobby allowed for great visibility, but it presented a challenge for appropriate acoustical separation. Floor-to-ceiling noise-isolating windows were specified to provide visibility with quiet, yet acoustical modeling indicated they would create too much reverberation inside the studio. So, we also specified flexible acoustic curtains that can be drawn to solve for room acoustics when needed, or pulled aside for clear views into the production space. Likewise, other spaces required similar sound isolation and room acoustics. Finally, all spaces required critical attention to reducing noise from the HVAC systems to yield low background noise.
Designing AV infrastructure for the Future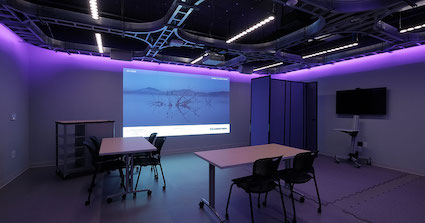 Delivering flexible high-tech spaces on a low-tech budget can be a project killer. ABD's audiovisual designers helped UO develop a concept budget for the spaces and used that as the design-guide. ABD provided a strong physical infrastructure design to support current and future audio and video needs. The AV infrastructure can support flexible ad-hoc cabling, connectivity, cable routing, and—more importantly—attachment points for virtual-reality lighthouses, tethers, antennae, sensors, and even robotic cameras. Meanwhile, the AV infrastructure also allows for the rapid pace of change and replacement in virtual reality, augmented reality, and social media environments. The AV infrastructure also supports the interconnectivity of multiple spaces for adaptable use in traditional broadcast as well as new media research and applications.
ABD worked within the university budget to design lower-cost options for high-impact items like the interactive video wall. The current hardware can be easily improved, replaced, and upgraded on the new infrastructure without structural or building modifications. The robust cabling plan ties in all the studio and workshop spaces in the Experience Hub and connects to existing campus networks.
Integrated Expertise
When audiovisual consultants and acoustical consultants work side-by-side, their combined expertise is in play to solve problems with practical solutions, solid communications, and data-driven recommendations. ABD's expert engineers and designers team-up on projects with each other, and with our clients, to create greater efficiency, and a better user-experience now and for years to come.