Removing obstacles to learning. That's the mantra around the movement toward Active Learning Classrooms (ALC) in University settings. This departure from the traditional lecture format, and toward flexible furniture, writing surfaces, collaborative activities, and integrated technology brings a new set of challenges when designing a space to deliver a learning environment free from the obstacles created by noise.
Berkeley University, Purdue University, and University of Minnesota have documented success with their ALC environments and are continuing to grow them. At these universities, each ALC is designed with furniture and technology that are inviting and flexible, providing more substantive opportunities for instructors and students to engage actively in the teaching and learning process. To be sure students and instructors are able to hear one another well and fully engage in learning, the strategic placement of acoustical treatment, and the control of mechanical system noise, are essential components of the room design. The technical systems must work hand-in-hand with the room design to allow for ease of use for large or small group activity.
Acoustics By Design provided consulting for the Active Learning Classrooms at Central Michigan University.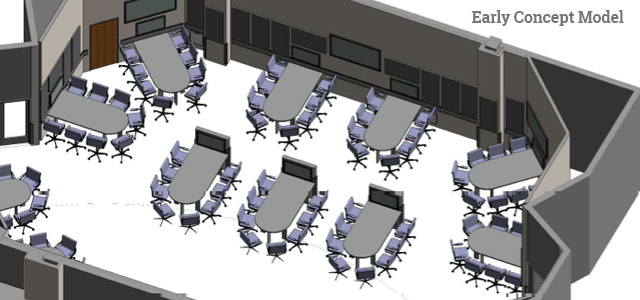 Studies have shown that such settings allow students to learn up to three times more and retain greater knowledge.
Some students may work well in noisy spaces. While others, including students with learning or hearing impairments, may find it difficult to focus or hear well in an ALC. The combination of the human brain and the ear is an amazing biological structure that has the ability to tune sounds in and out. When this system is hampered, learning and communicating is impaired. Sometimes environments are so sonically hostile that, regardless of fully functioning biology, it is nearly impossible to concentrate on anything. With careful consideration and strategic acoustical and technical design, ALCs can avoid obstacles to learning, and allow students of all learning styles and abilities to participate more richly in their education.
At Acoustics By Design, we're asked to help improve learning environments through recommendations for acoustical treatment, classroom technology, noise isolation, and mechanical noise control. We work with you to remove or reduce distractions like: background noise, room echo, and noise from outside the room. We complement the room with audio-video systems design suited for the room. Including an independent consultant, like Acoustics By Design, in the design and fit-out of an ALC, or traditional classroom, is a fundamental part of improving the learning environment.