AV Technology Master Planning
Designing audiovisual systems isn't just about today. It's about tomorrow. Next year. And years from now. We work collaboratively with architects, owners, CTOs, IT groups, and end-users to develop AV technology master plans that go beyond AV functionality—making AV technology and systems an integral part of your design and space.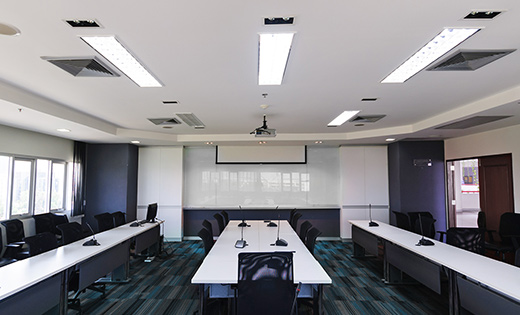 We consult, plan, and design AV technology systems for your present needs with flexibility, scalability, and forethought to anticipate future needs and extend system lifespans. So, as your organization grows and technology evolves, your AV technology master plan provides a map to quickly adapt, reinvent, and upgrade technology, applications, systems, and processes—effectively, efficiently, and economically.
Long-Term AV Technology Master Planning Solutions
With the ever changing AV technology environment, a long-term AV technology master plan is essential to keep pace with AV technology demands and to control costs. Our AV consultants work with you to help you select the most appropriate unified communication platform, define your AV technology needs, evaluate current technologies and compatibility with future technologies, plan and budget for new technologies, and facilitate seamless system expansions and upgrades. Our deliverable—a custom, comprehensive, long-term AV Technology Master Plan with a clear, concise strategy, creative solutions, and a roadmap providing ongoing continuity to guide the management process for current and future AV technology needs.
Independent AV Technology Master Planning
We meet, listen, and share knowledge and expertise, exploring options to help you develop a comprehensive, effective AV Technology Master Plan to accommodate your short-term and long-term AV technology needs. We also offer AV Infrastructure Planning and Design to support present AV technology and systems, and to efficiently facilitate future technology, systems expansion, and upgrades.
As independent AV consultant, we do not represent or sell products or services for any manufacturers, technologies, contractors, or suppliers. We only consult, offering you unbiased planning and recommendations best suited to serve your long-term AV technology and infrastructure needs and budget.
AV Technology Master Planning Services
Long-term AV Technology Master Planning
AV Technology Budgeting